When was eDreams Prime created?
Maybe you are wondering what eDreams Prime is and what kind of benefits it offers to its customers. If you are searching for cheap flights and hotel deals to book your next holiday, let's keep reading because eDreams Prime offers you the best deals and exclusive promotions for the members.
You will get 100% discounts for all the flights you purchase through the eDreams Prime subscription plan and a 50% discount, at least, in hotels. Also, you can rent a car during your holidays with an extra discount when you become a Prime member.
There are a lot of advantages to being part of eDreams Prime subscription plan. But, let's do it step by step in order to answer all the questions you could have before starting your premium plan for travelling.
The main reasons to be part of eDreams Prime are the big advantages of the premium plan in terms of flight deals, hotels and car rental. In addition to this, there is an important bi-annual event called Prime Day, when you can enjoy exclusive member deals with a huge discount specially for them.
More than 3.000.000 travellers already trust the eDreams Prime program. All of them have enjoyed their holidays with an important discount thanks to the membership.
Also, thanks to sharing their incredible experience travelling with eDreams Prime, other travellers have decided to subscribe to the annual premium plan as well.
What is the eDreams Prime Fare?
It is the price for the eDreams Prime members, which is lower than the standard and generic one for all the non-prime members. If you search for a flight in the search engine of eDreams platform or in the App, you will see the generic price scratched off and the lower Prime fare below. To be part of the eDreams Prime membership is so easy.
You only need to purchase your flight on the eDreams website and add the Prime subscription in your purchase. You will enjoy all the benefits of eDreams Prime for 54.99€ annually.
You will pay a unique fee per year and you will enjoy all the benefits for eDreams Prime members without restrictions. It is important to remember that the subscription will be renewed automatically and it is not refundable. So, if you want to unsubscribe from the eDreams Prime plan, remember to do it before your yearly subscription ends. If you still have questions, you can read more about eDreams Prime and all its benefits here.
How can I subscribe to eDreams Prime?
It is so easy: you only need to add the Prime subscription during the checkout process when you buy a flight, and you will be directly subscribed to the annual eDreams Prime plan. You can enjoy all the special fees for Prime members from that same purchase already. From that moment, you could enjoy the member fees of eDreams Prime with incredible flight and hotel deals for your holidays. Are you ready to be part of the eDreams Prime family?
Let's start from scratch. It is great to see how big the eDreams travellers community has become. Thanks to all the travel lovers, who have been exploring the world, eDreams has expanded their services to be able to give the best experience to our customers.
Is eDreams Prime trustworthy?
More than 3 milion eDreams Prime subscribers endorse the premium service with their confidence. Today, we can already say that in June 2022 we reached this incredible milestone that allows us to bring the Prime service to more people.
In addition, you can enjoy exclusive deals from the first purchase and recover the cost of your subscription thanks to the discounts applied to eDreams Prime.
There is also 24/7 customer support. As well as the possibility of unsubscribing at any time, without prior notice or penalty, and you can also do it online.
How can you unsubscribe from eDreams Prime?
You can unsubscribe from eDreams Prime from your computer, mobile or tablet, by the web version or through the eDreams app:
From your computer browser: Go to the eDreams website and click My account/My trips page in order to log in with your email and password.
From your mobile browser: Go to eDreams website, click to the Profile icon that you will find in the upper right corner and select Sign in with your email and password.
From the eDreams App on your mobile device: Go to the app and click to the Profile icon. Then Sign in with your email and password.
Once inside your profile you can cancel your annual subscription to eDreams Prime directly. In any case, there are many reasons to be part of eDreams Prime membership. We encourage you to think about it, so that you can continue enjoying travelling at the best price.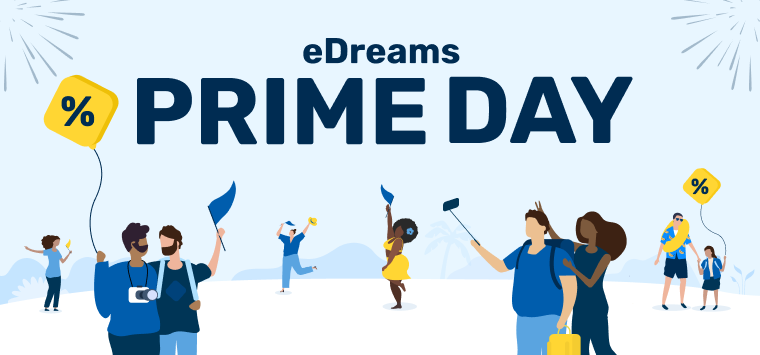 What is the eDreams Prime Day?
eDreams Prime Day is celebrated a couple of times a year with spectacular flight deals, and terrific hotel discounts, up to 60%. For Prime members it is a very good opportunity to book your vacation of the year at incredible prices.
Prime Days are usually held for 3 days in a row, several times a year, and if you download the eDreams App you can enjoy special discounts one day earlier than on the web.
If you still have questions about your eDreams Prime account, do not hesitate to contact us. Our teams will help you solve your doubts so that you can enjoy a premium service every day of the year.
Subscribe to eDreams Prime and enjoy the best discounts on all your travels.
When was eDreams Prime born?
What exactly is eDreams Prime Day?
What days is eDreams Prime Day?
Is eDreams Prime Day several times a year?
Do you have to have Prime for eDreams Prime Day?
Is everything discounted for the eDreams Prime Day?
Which are the best flight deals of eDreams Prime Day?
Which airlines are included in the eDreams Prime Day deals?
Are car rentals included in eDreams Prime Day?
How long does eDreams Prime Day last?
Why is it called eDreams Prime Day?